The ongoing series in which local performers interpret letters and documents about culturally vital individuals from various times and Louisiana communities. Now in its sixth consecutive season. Performances are free and open to the general public. Since COVID-19, programming is podcast, listen to past events HERE. 
2022 Season, June to New Years: Lady Louisiana Artists.
September 28:

Angela Gregory.



A virtual event co-hosted by Neal Auction Company.
Click HERE to listen.

Our second lady Louisiana artist, Angela Gregory, is a true Louisiana hero of women in the arts in the 20th century. Busting traditional boundaries and forging her own way. She was born in New Orleans in 1903. Became a successful sculptor garnering public and private commissions at a time when equal rights for women were only beginning.
This program owes a tremendous shout-out to Nancy Penrose, co-author of Gregory's biography, A Dream and a Chisel. Thanks again to Michel Varisco, the subject of our last podcast.
Gregory's mother was a stay-at-home mom and her father was a well-respected Tulane professor. In 1925, she convinced her parents to send her to Paris to learn how to become an artist. A highly unusual move for a young woman to do alone. It is to be remembered that women, white women, in this country had only gained the right to vote five years previously.
In Paris, she became the only American ever to study under Antoine Bourdelle and work in his stone cutting studio. Later, Gregory credited her very unusual success as a lady artist to Bourdelle's tutelage and help.
Her earliest influence was her mother, Selina Elizabeth Bres Gregory. Who had graduated from Newcomb College. Which was then Tulane University's women's college. Where she had the good fortune to study with artist brothers Ellsworth and William Woodward not long after they joined the faculty. The work of both Gregory women, the Woodwards, Newcomb Pottery, and Bourdelle, are prized as valuable pieces of art today.
Click HERE to listen.
Our first lady Louisiana subject is letters and missives to and from eco-feminist artist, and Letters Read Executive Advisory Board member, Michel Varisco.
Varisco's photography, assemblages, and installations bear witness to our relationship with nature as observed in architecture, engineered, and the wild.
The artist writes further about the above image, "Sr. Alison McCrary, the radical nun and lawyer is holding a dead yellow warbler. She had told me she was mourning the slow death of the Catholic Church, while I mourn the disconnect of religion for the environment and the future of all sentient beings." —2019 King Tides exhibit, Good Children Gallery, New Orleans, LA.
In addition to letters from Varisco's wide family of friends, cohorts, fellow artists and collaborators, this podcast includes edits from the email exchange between Letters Read Director and lady Louisiana artist, Jacqueline Bishop. Bishop contributed in an advisory manner for this production. Her work reflects on complex connections between climate change, species extinction, and migration.
Christopher Kamenstein, co-artisic director of Goat in the Road Production, reads Varisco's letters and other correspondence of interest. Audio production is by Steve Chyzyk, Sonic Canvas Studio.
Earlier this year, wrapping-up the previous programming season, Doing Business in New Orleans, Letter Read presented the Clay Shaw story.
April 1, 2022:

The Only Person Ever Brought to Trial for Conspiracy to Assassinate President John F. Kennedy.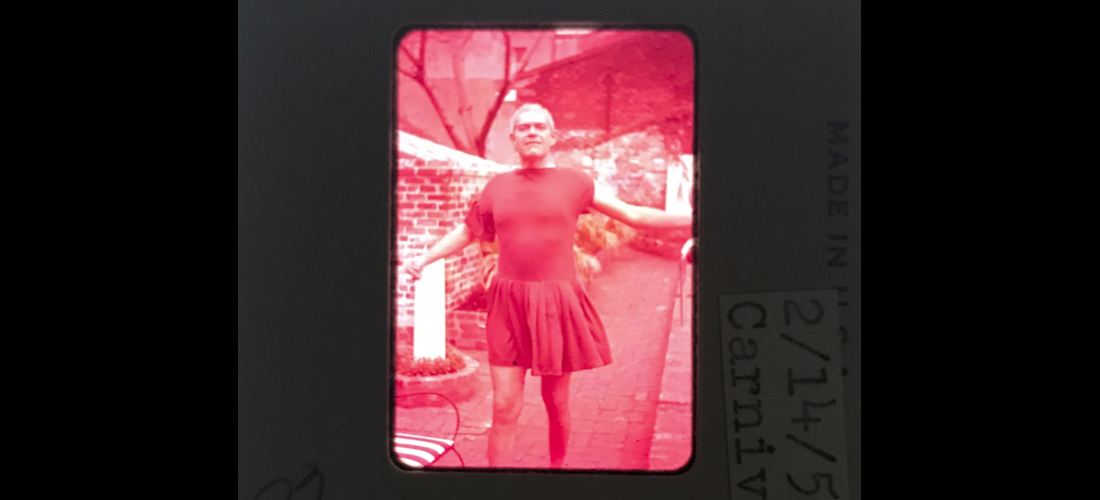 On March 1, 1967, New Orleans District Attorney Jim Garrison arrested him on conspiracy charges. Shaw was a beloved, successful, local businessman, and closeted queer man.
On January 29, 1969, Garrison tried Shaw in Orleans Parish Criminal Court on three conspiracy charges. A little over a month later the jury took less than one hour to acquit Shaw.
After, "…jurors expressed their bewilderment as to motive. Respectable socialite Clay Shaw, it strained credulity as to why he would become involved in the murder of the President. Jim Garrison believed that Shaw was acting as Oswald's shepherd in New Orleans, under instructions from CIA. But he couldn't prove it, certainly not beyond a reasonable doubt." —Joan Mellen.
Many theories swirl around these, now infamous, Big Easy characters. Both Shaw and Garrison. This reading strives to represent the man who was Clay Shaw and, to a lesser extend, who was Garrison.
Robert Valley reads as the voice of Shaw, David Zalkind is Jim Garrison. Audio production is by Steve Chyzyk, Sonic Canvas Studio.
PHOTO: 1956. Clay Shaw dressed for Mardi Gras. From an original 35mm slide in a boxed tray labelled, "Carnival, 2/14/56. Sally Del Sue Ray". Property and copyright of Letters Read.
2021 Season, Doing Business in New Orleans.

New Years Eve: Dad, Mid-20th Century Foreign Intrigue & the Almighty American Dollar
Premiering New Year's at 6:00 pm CDT. Our final production for 2021, Doing Business in New Orleans.  A prelude to the upcoming, 2022 regular programming event about New Orleans' beloved international businessman Clay Shaw, international trade, CIA, and the JFK assassination conspiracy.
A link to the New Year's podcast will be posted HERE. You can listen to previous Letters Read recordings and podcasts HERE.
The December 31st podcast is one of our incubator, experimental-style readings. It weaves comparisons between Shaw and another, international-export-fella, Nate Feldman. Who spoke about his trade during a 2007 entrepreneurship panel discussion at Loyola University New Orleans. The other panel members speaking were environmental justice activist Michel Varisco—a Letters Read Executive Advisor—and this project's Director well before Letters Read began in 2017. A link to that discussion is HERE.
The audio producer for this event is Steve Chyzyk, Sonic Canvas Studio in New Orleans.