Letters Read is an ongoing series in which local performers interpret letters and written documents about culturally vital individuals from various times and Louisiana communities. Focusing on New Orleans. Now in its seventh consecutive season. Performances are free and open to the general public. Listen to past events HERE. 
2023 PROGRAMMING:
New York/New Orleans
INCUBATOR XI.
WATER & SALT

Two Cities' Dilemmas.
Henniker, Frederick. Notes, During a Visit to Egypt, Nubia, the Oasis, Mount Sinai, and Jerusalem. London: John Murray, 1823. Shown above is

an aquatint fold-out view of Jerusalem "whose precision could let a traveler use it for wayfinding." —

https://www.drawingpalestine.com/jerusalem.html.
This production was created from material collected during the creation of Drugs, Sex, Rock & Roll: A Year of Magic and Wonder. Which coincided with the project's director/writer's move back from New York to New Orleans. Quoting from the script, Collins's observation was that moving home was "kind of like sleeping with an old lover."

Meanwhile, significant municipal water issues collided in both cities and, in the Middle East. Podcast Sunday, November 5, and thereafter. LISTEN HERE.
DRUGS, SEX, ROCK & ROLL
A year of magic and wonder.
Friday, October 20, and thereafter, listen to an oft-experienced tale of the Big Easy luring an innocent, out-of-towner, to the dark side.
This specific story, ca. 1985, focuses on one year, one incredibly transformative year. For one man. Emblematic of many attracted to New Orleans for its louche way of life.
This potentially tragic tale resolves itself into a beautiful, tie-dye butterfly. In which a Tulane undergraduate magically emerges going on to a fulfilling queer life and hugely successful, big city, New York City career.
Geoff Munsterman reads as the subject. Named James, just James. Shadow Angelina Starkey reads as Nancy Sharon Collins, the project director. Historic context has been corroborated by consultant, Royd Anderson. Munsterman and Starkey produced it.
You can access the podcast HERE.
Robert Moses and New Orleans's Riverfront Expressway.
July 16, 12:00 pm, CDT, and thereafter.
Listen to the podcast HERE.
Continuing our New York/New Orleans journey, we bring you the only project Robert Moses ever did in the Crescent City. With his usual team of engineers and urbanists, he directed a report with suggestions to solve traffic congestion in the Big Easy. Locally, this project—or part of it—is referred to as the ⁠⁠Riverfront Expressway⁠⁠.
Robert Moses, the greatest builder New York has ever known, is so often credited with it that it is almost funny that it did not even happen. As frequently as he is credited with the project that never was, he is also incorrectly blamed for the Claiborne Expressway. That, horrendously, did. 
This podcast is part of the ongoing script development for a fully realized live performance later this year about Moses, his portion of the report, and the historic outcomes.
The reading is based on primary source research in The Robert Moses Collection at the New York Public Library and Moses' 1946 "Arterial Plan of New Orleans" commissioned by the state of Louisiana. Additional information comes from newspaper articles, past and current, hearsay, Facebook, Robert Caro's The Power Broker, Richard Baumbach and William Borah's The Second Battle of New Orleans, and Hilary Ballon's Robert Moses and the Modern City. 
For information on the current fight to remove the Claiborne Overpass and links to other resources used for this production, go to ⁠HERE⁠. 
April 30, 5:00 pm, CDT.
Orange Couch
2339 Royal St.
New Orleans, LA 70117-8529.
Free and open to the public and covered by Stefanie Russell on Historia. This is the first live event since October 26, 2019. An informal reading excerpted from the full Robert Moses script being produced for the live event later this year. Here is what it's all about:
Robert Moses, New York City, and the state's greatest builder.  Respected and reviled. In 1945, Moses was contracted by the state of Louisiana to evaluate, and recommend, remedies for common, mid-20th-century problems such as traffic congestion.
While many of his plan's ideas were implemented over time, the Riverfront Expressway never materialized.
Excerpts are from Robert Moses's own writings, letters, and other contemporaneous articles. Primary source material from the New Orleans Public Library, the Historic New Orleans Collection's Williams Research Center, and Robert Moses papers. Manuscripts and Archives Division. The New York Public Library. Astor, Lenox, and Tilden Foundations.
Amidst the post-World War II automobile-based transportation frenzy, the 1946 "Arterial Plan for New Orleans" was published. Commissioned by Louisiana state's Department of Highways and directed by New York master planner Robert Moses. This report outlined the modernization of all Crescent City transportation. In addition to advocating for the high-speed movement of automobiles through a historically rich urban center–the French Quarter—the report planned for new, more efficient railways, airports, shipping canals, and yes, monumental parking garages.
At its heart was an elevated, riverfront expressway. Later known as the Riverfront Expressway. It would separate the historic Vieux Carré and the Pontalba Plaza from the Mississippi riverfront entirely. Literally throwing the historic residential neighborhood, a significant tourist destination, into the shadows.
April 28: A Dress Rehearsal.
Christopher Kamenstein, Goat in the Road Productions co-creative director, reads as Robert Moses.
David Zalkind, Frenchman Art & Books, reads contextual information.

This is a work in progress. A rehearsal for the script being developed for the live production later this year.
The subject is Robert Moses. Born 1888. Deceased 1981.
Visionary urban planner. Who changed the mid-twentieth century built environment of New York City and New York State in a manner still seen and experienced today. The municipal projects he brought to fruition were massive in scale. Damns. Bridges. Parkways, toll roads, and highways. Superhighways.
Moses envisioned a spectacular web of high-speed roads moving hundreds of thousands of cars carrying freight and people. Since the 1920s, other city planners had dreamed of this. No one. No one could figure out how. Robert Moses did.
March 20, INCUBATOR X.
Introducing the 2023 Season, Director's Note.
The 10th Incubator short. Another experimental-style podcast by stationer, Nancy Sharon Collins, the project director. It is the first to be recorded in The Big Apple. In a pre-war, studio apartment 'round the corner from the monumental, Ed Koch Queensboro Bridge. This reading will introduce the 2023 theme, New York / New Orleans. Total listening time: under 6 minutes and 3 seconds. Click HERE to listen.
———————————————–
2022 Season: Lady Louisiana Artists.
New Year's Eve: Lemons to Lemonade.

Finishing up the Lady Louisiana Artist series for 2022 is Magen Raine Gladden. Commercial artist. Born into a hippy dirt road collective along River Road in South Louisiana with a lifetime of health challenges. Now a leader through the lens of workplace equity and inclusivity rights. This podcast goes live on New Year's Eve. Click HERE to listen.
Geoff Munsterman narrates. Shadow Angelina Starkey reads as Gladden. Munstermanam is a poet, editor, and book artist from Plaquemines Parish now living in New Orleans' Holy Cross neighborhood. Starkey is a Cajun poet and photographer whose family has called New Orleans home since 1727.
Join Letters Read New Year's Eve to listen and support this amazing project by clicking HERE.
Thanksgiving, Incubator IX.
Letters from the Street.
The 9th Incubator short. Another experimental-style subject. This one presented in 7 minutes and 12 seconds presenting missives literally sourced from New Orleans's streets. Missives of all kinds. Notices, notes-to-self, lists, recipes, and formulas. Why, even poetry. To listen, click HERE.
September 28: Angela Gregory.

Click HERE to listen. A virtual event co-hosted by Neal Auction Company.

Our second lady Louisiana artist, Angela Gregory, is a true Louisiana hero of women in the arts in the 20th century. Busting traditional boundaries and forging her own way. She was born in New Orleans in 1903. Became a successful sculptor garnering public and private commissions at a time when equal rights for women were only beginning.
This program owes a tremendous shout-out to Nancy Penrose, co-author of Gregory's biography, A Dream and a Chisel. Thanks again to Michel Varisco, the subject of our last podcast.
Gregory's mother was a stay-at-home mom and her father was a well-respected Tulane professor. In 1925, she convinced her parents to send her to Paris to learn how to become an artist. A highly unusual move for a young woman to do alone. It is to be remembered that women, white women, in this country had only gained the right to vote five years previously.
In Paris, she became the only American ever to study under Antoine Bourdelle and work in his stone cutting studio. Later, Gregory credited her very unusual success as a lady artist to Bourdelle's tutelage and help.
Her earliest influence was her mother, Selina Elizabeth Bres Gregory. Who had graduated from Newcomb College. Which was then Tulane University's women's college. Where she had the good fortune to study with artist brothers Ellsworth and William Woodward not long after they joined the faculty. The work of both Gregory women, the Woodwards, Newcomb Pottery, and Bourdelle, are prized as valuable pieces of art today.
Click HERE to listen.
Our first lady Louisiana subject is letters and missives to and from eco-feminist artist, and Letters Read Executive Advisory Board member, Michel Varisco.
Varisco's photography, assemblages, and installations bear witness to our relationship with nature as observed in architecture, engineered, and the wild.
The artist writes further about the above image, "Sr. Alison McCrary, the radical nun and lawyer is holding a dead yellow warbler. She had told me she was mourning the slow death of the Catholic Church, while I mourn the disconnect of religion for the environment and the future of all sentient beings." —2019 King Tides exhibit, Good Children Gallery, New Orleans, LA.
In addition to letters from Varisco's wide family of friends, cohorts, fellow artists and collaborators, this podcast includes edits from the email exchange between Letters Read Director and lady Louisiana artist, Jacqueline Bishop. Bishop contributed in an advisory manner for this production. Her work reflects on complex connections between climate change, species extinction, and migration.
Christopher Kamenstein, co-artistic director of Goat in the Road Production, reads Varisco's letters and other correspondence of interest. Audio production is by Steve Chyzyk, Sonic Canvas Studio.
Earlier this year, wrapping up the previous programming season, Doing Business in New Orleans, Letter Read presented the Clay Shaw story.
April 1: The Only Person Ever Brought to Trial for Conspiracy to Assassinate President John F. Kennedy.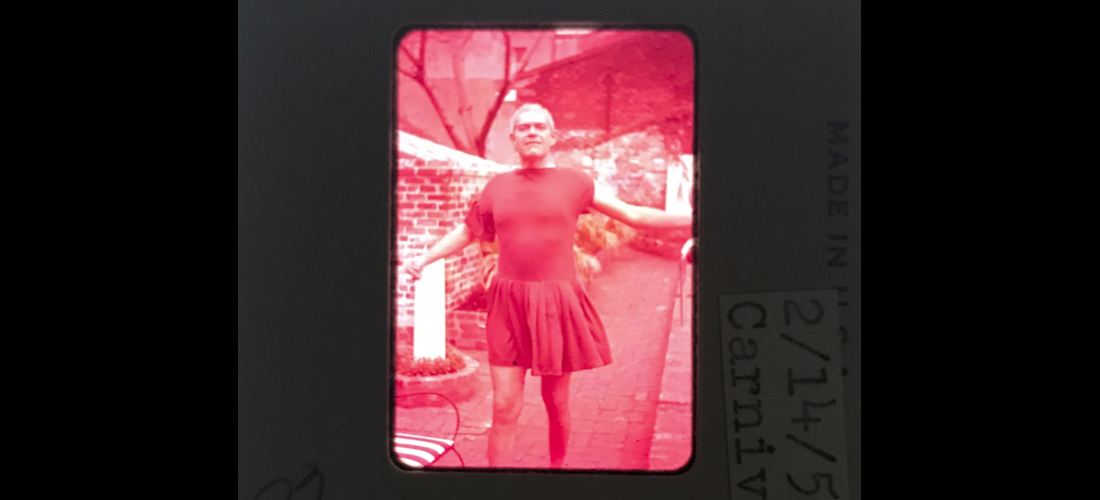 On March 1, 1967, New Orleans District Attorney Jim Garrison arrested him on conspiracy charges. Shaw was a beloved, successful, local businessman, and closeted queer man.
On January 29, 1969, Garrison tried Shaw in Orleans Parish Criminal Court on three conspiracy charges. A little over a month later the jury took less than one hour to acquit Shaw.
After, "…jurors expressed their bewilderment as to motive. Respectable socialite Clay Shaw, it strained credulity as to why he would become involved in the murder of the President. Jim Garrison believed that Shaw was acting as Oswald's shepherd in New Orleans, under instructions from the CIA. But he couldn't prove it, certainly not beyond a reasonable doubt." —Joan Mellen.
Many theories swirl around these, now-infamous, Big Easy characters. Both Shaw and Garrison. This reading strives to represent the man who was Clay Shaw and, to a lesser extent who was Garrison.
Robert Valley reads as the voice of Shaw, David Zalkind is Jim Garrison. Audio production is by Steve Chyzyk, Sonic Canvas Studio.
PHOTO: 1956. Clay Shaw dressed for Mardi Gras. From an original 35mm slide in a boxed tray labeled, "Carnival, 2/14/56. Sally Del Sue Ray". Property and copyright of Letters Read.